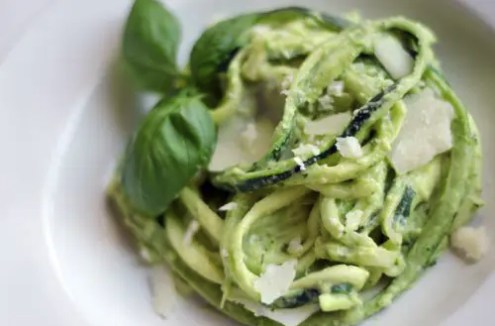 Zuchini pasta is a refreshing and easy alternative to the regular pasta, especially when mixed in creamy pesto sauce
ZUCCHINI PASTA WITH CREAMY PESTO


pasta:
Pesto:
2 cups spinach
2 cups fresh basil
1/2 cup walnuts
1/4 cup pine nuts
2 ½ tablespoons nutritional yeast
3 tablespoons olive oil
2-3 cloves garlic
Himalayan salt to taste
A little fresh lemon juice (optional)
Vegan parmesan cheese (can be omitted)
Course of action
Begin by making the courgettes into pasta with a spiralizer or potato peeler.
Make pesto by adding all the ingredients to a food processor and blend until creamy.
Taste your pesto to see if you want to add more salt, garlic or pepper and add a little freshly squeezed lemon juice to taste.
Mix your pasta with pesto sauce and serve with a little fresh basil on top.