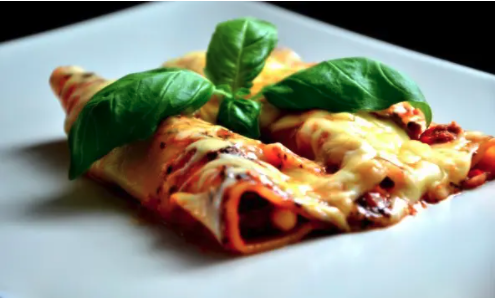 Organic CANNELLONI with salmon and spinach
If you want to avoid too many pesticides as well as antibiotics and reduce the environmental impact, you should go for these labeling schemes. They are not flawless but the best choice for you and the environment when you want to buy fish.
Spinach leaves contain minerals such as potassium, magnesium, copper, zinc and manganese. These help the body regulate body fluids, cell functions, heart rate and blood pressure. And they help create robust, useful enzymes.
Organic Cannelloni with salmon and spinach


600 g fresh salmon
250 g lasagne plates
250 g fresh spinach
a little nutmeg
30 g buckwheat flour (gluten free)
100 g grated parmesan
30 g butter / ghee
1 clove crushed garlic
30 ml sour cream
4 dl milk / almond milk / soy milk
Cook pasta plates according to package directions and until they can bend.
Dip them into cold water and place them on a paper towel to dry.
Heat 10 g butter in a pan and fry onions and garlic over a medium heat until soft.
Add spinach and continue to cook for 5 min.
Stir in sour cream and season with salt, pepper and nutmeg.
Grease an ovenproof dish.
Put some spinach and a salmon strip on each pasta sheet and roll it until it looks like cannelloni.
Place them in the dish with the bend below.
Preheat the oven to 200 degrees.
Melt the remaining butter and stir in the flour until it clumps. Then gradually stir in the milk with a whisk.
Bring the sauce to a boil briefly, stirring constantly.
Season with salt, pepper and nutmeg.
Pour the sauce over pasta rolls and sprinkle with cheese.
Bake for 20-25 minutes until the salmon is done and the pasta rolls are lightly golden.