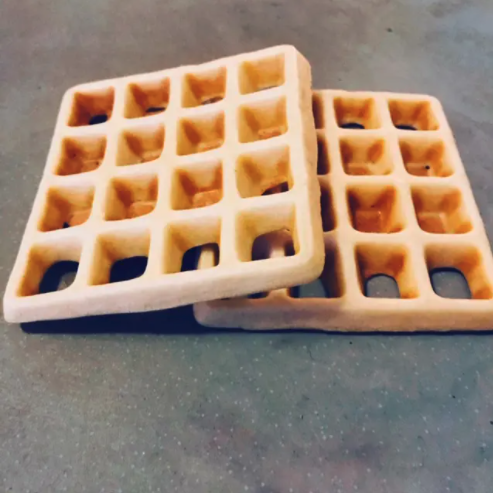 waffles
Waffles made according to a classic recipe that we grew up with. Classic, sweet and quite ordinary waffles that are crispy on the outside and soft on the inside – can be served with ice cream or whipped cream and jam or simply with icing sugar.
ORGANIC WAFFLES


300 g buckwheat flour (gluten free)
3 tsp. b age powder
1 1/2 tsp. Himalayan salt
3 æ g
5 DL. plant milk, preferably oats
25 g of vegetable butter
2 teaspoons vanilla sugar
Mix flour, salt, baking powder and vanilla sugar together in a bowl.
In another bowl, stir milk, eggs and butter together, then add the flour mixture.
Stir until all lumps are stirred out and the dough is completely smooth.
Preheat the waffle iron before use.
Let each waffle bake on medium heat for 3-4 minutes. Or until you thought they've got a crispy crust.