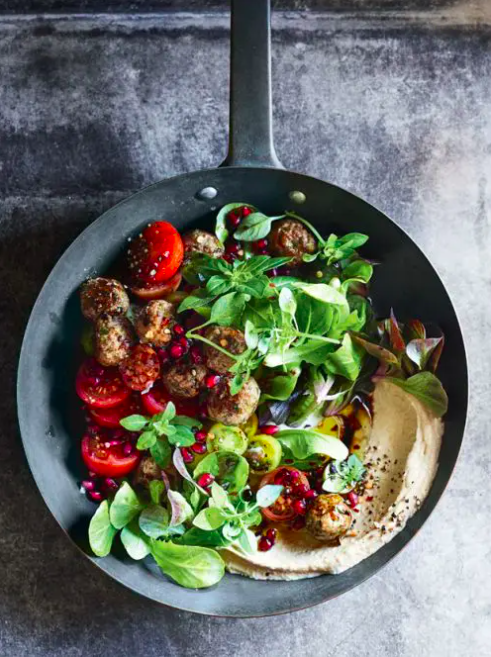 Kofta is very similar to meatballs or meatballs, and they originate from South Asian, Middle Eastern, Balkan and Central Asian cuisine. Kofta is often made with meat, but in this vegetarian version we have chosen red lentils. Lentils contain almost twice as many carbohydrates as protein per serving. 100 g. For example, red dried lentils contain 52.3 g. Of carbohydrates and 27.3 g. Of protein per. 100 g.
Red Lens Kofta


1 cup coral lentils (200 g), rinsed and drained
2 1/2 cups water (625 ml)
1/2 cup bulgur (75 g), rinsed, drained and dried
1 onion, thinly sliced
3 tablespoons olive oil (45 ml)
1 tablespoon harissa sauce (15 ml)
1 tablespoon tomato paste (15 ml)
1 teaspoon ground cumin
1 teaspoon salt
2 teaspoons maple syrup (10 ml)
1/2 cup water (125 ml)
1/2 cup chopped parsley (125 ml)
Tomato salad:
10 cherry tomatoes
1 tablespoon olive oil (15 ml)
1 tablespoon lemon juice (15 ml)
2 tablespoons chopped red onion (30 ml)
Handful of mixed salad
Handful of spruce apple seeds
Salt and pepper to taste
In a large saucepan, add lentils and water. Cook for 20 minutes. Remove the pan
from the heat and immediately add the bulgur, stir well, cover and let stand for 20 minutes.
Heat oil and sauté onions for 5 minutes.
Add harissa, tomato puree, cumin, salt, maple syrup and water. Let it simmer for 5 minutes, or until all liquids are absorbed.
Stir in lentils and bulgur mixtures. Add chopped parsley and season with salt and pepper. Mix well.
Let it cool for 30 minutes.
Remove the mixture from the refrigerator. Use wet hands to shape the mixture into small balls and then place them on a piece of baking paper.
Bake at 180 degrees for 30 minutes.
Mix lemon and oil together and add a little salt and pepper.
Pour the dressing over your tomato salad and serve with the warm kofta and hummus .