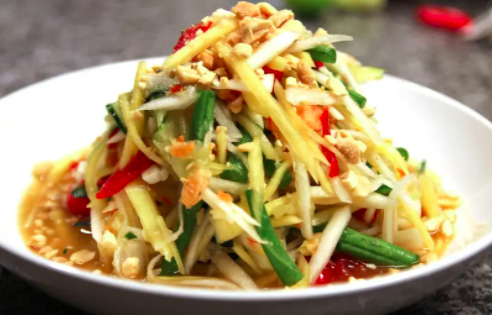 The papaya fruit is stuffed with powerful antioxidants that prevent several serious diseases. The fruit also contains many important nutrients that the body needs every day. Among other things, dietary fiber, copper, folate, magnesium, vitamins A and C and much more.
Papaya Salad


1 papaya – preferably unripe
10 cherry tomatoes
2-3 long snake beans
4 fresh red chilies (without seeds).
4 cloves garlic
2 – 3 tbsp peanuts
2 tablespoons fish sauce
2 tablespoons lime juice
1 teaspoon cane sugar
Put cherry tomatoes in a bowl and mash them so that the juice and seeds flow out, but without destroying them completely.
Rinse your papaya and peel it.
If you use a papaya peeler, you will quickly get fine, long strips. You can buy it in most stores with Asian ingredients or on the internet.
Finely chop garlic and chili. Use evt. a mini chopper, but you can also use a mortar.
Add the finely chopped chilies and garlic to the tomatoes.
Then add fish sauce, sugar and lime juice and mix well.
Add the papaya strips and snake beans.
Just before serving, mix peanuts in the salad and turn everything well. If you add peanuts earlier, they will become a little soft in it.