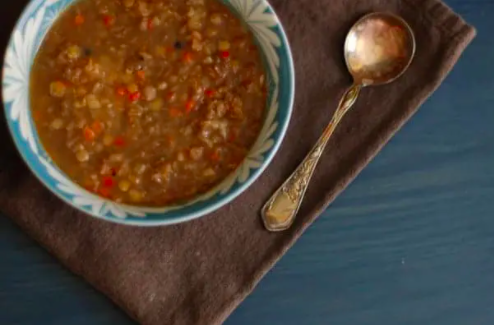 Nutritionally, legumes are healthy, low-fat ingredients that contain a lot of dietary fiber, minerals and vitamins. In addition, they saturate well and are inexpensive. Legume protein contains amino acids that your body needs to build and maintain muscle, keep your immune system healthy, and promote the synthesis of hormones and enzymes.
RED PEPPERS & LENTIL SOUP


Bell pepper:
3 red peppers, coarsely chopped
1 tablespoon neutral coconut oil for frying
2 teaspoons sea salt
black pepper
The soup:
2 small red onions, finely chopped
2 tablespoons neutral coconut oil for frying
5 garlic cloves, sliced
2 teaspoons crushed cumin
2 teaspoons smoked paprika
300 g red lentils, rinsed
1 1/2 liters of vegetable broth
2 tablespoons tomato puree
2 tablespoons harissa or 1 teaspoon harissa pasta
400 ml coconut milk
1 / 2- 1 teaspoon sea salt
black pepper
Toppings:
fresh coriander
coconut yogurt
Roasted seeds
Bell pepper:
Preheat the oven to 180c
Peppers are fried in a pan with neutral coconut oil. Add salt and pepper.
Fry for 15-20 min or until soft and slightly charred. Set aside and when cooled chop them quite finely.
The soup:
Fry onions with the oil in a large pan until soft and lightly browned.
Add garlic and fry for another 1 minute, then add cumin and paprika.
Add lentils, vegetable broth, tomato puree and harissa.
Let it simmer for 10 minutes, then add fried peppers and coconut milk, simmer for another 10 minutes. Season well.
Serving:
Sprinkle with coconut yogurt and top with cilantro and roasted seeds.