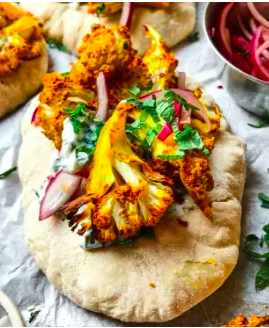 Cauliflower is a nutritious vegetable that is excellent for supporting a strong immune system and optimal health. Cauliflower is incredibly high in vitamins C, K and B complex and minerals such as boron, calcium, molybdenum and tryptophan. It is also a good source of high quality protein that is easily assimilated into the body.
Mini Pizza with Tandoori Cauliflower


30 1 hour preparation time & 40 min preparation time
Dough:
400 g wheat flour
1/4 teaspoon sea salt
1 teaspoon dry yeast (rises faster)
1 teaspoon cane sugar
2 tablespoons olive oil
350 ml of lukewarm water
Mix together – let stand for a few minutes
Tandoori cauliflower:
1 large cauliflower cut into small flowers
1 teaspoon garam masala
1 teaspoon turmeric
1 teaspoon coriander
1 teaspoon garlic powder
1/2 teaspoon sea salt flakes
Knife chili flakes
Juice 1 lemon
5 tablespoons coconut yogurt
Pickled onions:
1 medium red onion, very thinly sliced
50 ml apple cider vinegar
1/2 teaspoon coriander seeds
2 teaspoons maple syrup
1/2 teaspoon sea salt
Mint yogurt:
6- 8 tablespoons coconut yogurt
4 tablespoons fresh mint, chopped
Juice 1/2 lemon
1 tablespoon olive oil
1/2 teaspoon sea salt
Toppings:
Fresh mint
Fresh coriander
Chili flakes
Dough:
Add the dry ingredients in a large bowl – mix well.
Mix olive oil with lukewarm water.
Gather until you have a dough. Tip: place the dough on a well floured cutting board. Knead for a few minutes until the dough is pliable. Add more flour if necessary.
Return the dough to the bowl and cover with a damp cloth for approx. one hour.
Then return the dough to the flour cutting board and knead again.
Tandoori cauliflower:
Add the dressing ingredients in a large bowl and mix to combine.
Now add the cauliflower and mix to combine.
Transfer the cauliflower to an ovenproof dish. Put the dish in the oven at 160 g. For 20 minutes, then turn and give them another 20 min. Keep an eye on them so they do not get burned
Pickled onions:
Add all the ingredients in a bowl and stir to combine.
Mint yogurt:
Add all the ingredients in a bowl and mix to combine.
Preparation of 8 pizzas:
Preheat the oven to 180 g and grease two large baking trays.
Divide the dough into eight portions, then roll out the dough on a flour cutting board. Place on baking sheets.
Bake for 15 minutes until the crust is baked and slightly golden.
Remove from the oven and then top with mint yogurt, cauliflower and pickled onions. Add fresh mint, coriander and chili flakes.