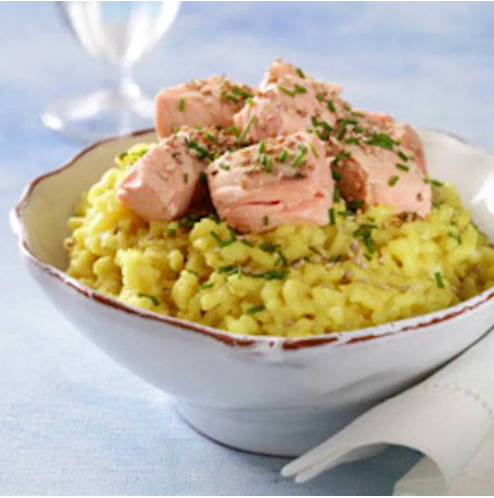 Fish may have the red organic label , the MSC or ASC label. Fish contains healthy fish oils and vitamins, but conventional fishing has consequences for the environment, your health and the animal welfare of the fish. Overuse of antibiotics in conventionally farmed fish can contaminate the aquatic environment and make bacteria antibiotic resistant, and there may be pesticide residues in the fish's feed. Conventional, wild fish can be overfished, leaving stocks threatened or extinct. If you want to make a more sustainable choice, look for 3 brands when buying fish.
Among other things, these labels make demands on the fish's living conditions and the environment. Here you get help to know the difference between the brands.
Look carefully for where the fish comes from
It must always appear from the salmon where it comes from, ie. whether it is farmed or trapped.
SALMON WITH LEMON AND GINGER RISOTTO


850 g wild salmon fillet without skin
1 1/2 lemon
1.3 l chicken broth from cubes
3 cloves garlic
6 teaspoons grated fresh ginger root
3 teaspoons turmeric
3 tablespoons neutral coconut oil
3 shallots
600 g risotto ris
Salt and freshly ground pepper to taste
6 teaspoons sesame seeds
Bring the broth to a boil in a saucepan and add the following broth: crushed garlic, grated ginger and turmeric. Stir well.
Finely chop the shallots. Heat the oil in a thick-bottomed pan and fry the onions over medium heat for one minute.
Add the rice while stirring. Add 6 dl broth and let the rice cook for 2 minutes, stirring constantly. Add another 5 dl broth and continue to cook, stirring constantly, for another 2 minutes. Add the rest of the broth and let the rice simmer under a lid on low heat for approx. 13 minutes.
Cut the salmon into cubes of approx. 2½ cm. Squeeze 2 tablespoons lemon juice over the salmon, sprinkle with a little salt and pepper and set aside.
Stir in the rice and adjust the taste with salt and pepper.
Place the salmon on top of the risotto, which is further steamed under a lid for approx. 6 minutes or until the fish is done.
Meanwhile, roast sesame seeds on a dry pan. Serve in portions and sprinkle with sesame seeds.