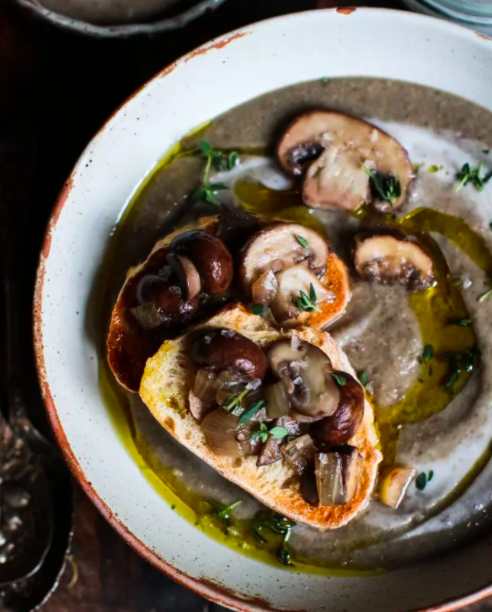 Portobello mushrooms, is a medical powerhouse and contains several unique health-promoting compounds. They are a good source of vitamins E, B12 and D and minerals such as zinc, selenium, iron and calcium. The fungi contain potent anticancer compounds, such as conjugated linoleic acid (CLA), which are especially beneficial for breast, ovarian and uterine cancer due to its ability to prevent high levels of estrogen from circulating in the body.
Source: The Medical Medium
MUSHROOM SOUP WITH TRUFFLE OIL


1 onion, coarsely chopped
2 tablespoons neutral coconut oil for frying
600 g portobello mushrooms chopped
3 cloves garlic, sliced
1 pinch of Himalayan salt
250 ml coconut milk
250 ml vegetable broth
2 tablespoons fresh thyme
dispute freshly ground pepper
juice from 1 lemon
Toppings:
sprinkle truffle oil
coconut yogurt
1 small sliced ​​sourdough bread
1-2 mushrooms in slices as garnish
fresh thyme
1 hndf roasted walnuts
In a large saucepan, fry onions over medium heat with neutral coconut oil until soft and caramelized.
Add garlic and mushrooms, and fry until the mushroom is softened.
Now add a pinch of salt. Remove 1-2 fried mushrooms for garnish.
Add coconut milk and broth and let the dish simmer for 10 minutes.
Use a stick blender and blend until the soup is creamy.
Serving:
Toast the bread.
Serve 4 soup bowls with the soup.
Sprinkle a little truffle oil over and add a little coconut yoghurt as a brush stroke.
Top with bread, the sliced ​​mushrooms, thyme and roasted walnuts.